Festive Entertainer Gift Pack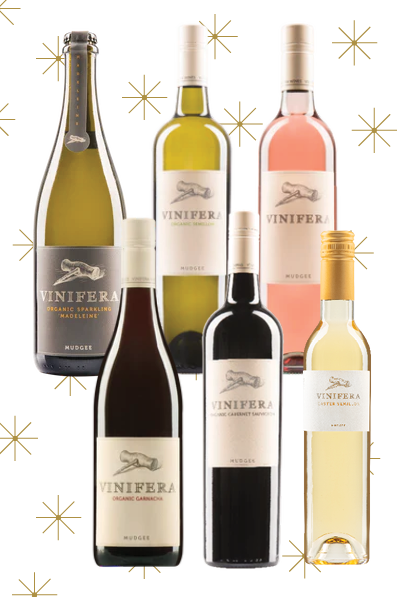 Festive Entertainer Gift Pack
The perfect combination of wines for your Christmas celebrations, from Christmas Eve through to Boxing Day!
We've chosen a delicious selection of wines that will take you from Christmas Eve drinks through to boxing day watching the test. 
2021 Organically Grown Sparkling Madeleine - Cheers to the festive season at Christmas Eve drinks with a bottle of our popular Sparkling Chardonnay.
2021 Organic Semillon - Perfectly paired with prawns and oysters, this wine screams Seafood Christmas!
2022 Organic Rosé - a lovely afternoon sip to enjoy with a cheese plate (or leftovers) on Boxing day.
2022 Organic Garnacha - this juicy and lighter style of red is the perfect match for Christmas turkey and ham.
2018 Organically Grown Cabernet Sauvignon - a big rich red to enjoy with a big Christmas roast.
2022 Easter Semillon - Pair this with your pudding and you won't be dissapointed.